Chris Farrell says exactly how I feel about
Caylus
here
. The key excerpt:
Maybe I would have gotten a kick out of [Caylus] 15 years ago, before I played Adel Verpflichtet, Modern Art, or Settlers of Catan, but today I crave something artful, something well-crafted, and something that is actually fun. And something that provides the intellectual and psychological challenge without making me do this much gratuitous, and fairly boring, work.

Now, what is "fun" is completely subjective. I think this undeservedly-ignored Geeklist
"The Qualities of Fun"
be Stephen Avery says it quite well (I was going to do a similar one but it would have been redundant when I found Stephen's offering.) Chris and I may share a sensitivity (although perhaps to a different degree - he's played far more boardgame than I have) to rough edges.
Caylus: Chris - 4, Rick -4
Power Grid: Chris - 6.5, Rick - 6
Age of Steam: Chris - 7, Rick - 5
War of the Ring; Chris - 6, Rick - 3
Reef Encounter: Chris - 8, Rick - 4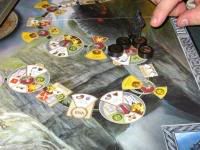 I can't speak for Chris other than to divine his thoughts from the quote above. The term I usually use in this instance is the much-maligned term "elegance." I take games in a wholistic sense - does the game work as a unified whole? Is there no wasted space? Are players given just enough freedom to know that they have control over their destinies, but not so much control that the game slows to a crawl?
Single elements of games don't tend to do much for me in terms of making up for less-than-stellar gameplay, just as much as a glaring weakness in my eyes will make a game intolerable. It all has to mesh.
For example,
Wallenstein
's cube tower is an element that a lot of people enjoy. To me, it's one of the worst resolution mechanisms in all of gaming. It's more annoying than Settlers of Catan's 2d6 production roll and The Game of Life's spinner. I can at the very least calculate odds on those two. There's no calculating the odds of a cube stuck in the tower coming out in a particular battle, or the odds of a cube thrown in getting stuck in there. Add in the thematic break of an army unit fighting on one end of the country teleporting to a battle on the other side of the country and you have a mechanism that I cannot enjoy.
Over to theme. Say what you will about "pasted on" themes, but a game's theme either works on that abstracted level (
Knizia's Samurai
, Torres, Amun-Re,
Euphrat & Tigris
) or it doesn't (
RA
, Medici,
Beowulf
, Cartagena). To me the more disappointing ones are the near misses like Wally, which would have been a more tolerable area-control/Eurowargame if it had used dice or cards for resolution instead of the gimmicky tower. I cannot tolerate games that are all flash and no substance, games that commit far more heinous crimes to my game sensibilities than Wally.
So, an "elegant" game in my book has streamlined mechanisms and a theme that's integrative but not necessarily all-encompassing. Caylus has neither. Similar to Chris, I feel that it's got a lot of mechanisms that don't necessarily add to the game, and its theme is breached in some places. (On the latter part I'm most bothered by the Provost and the Bailiff. They just don't make sense in the context of the theme.)
So I guess I've been spoiled by
Knizia
and
Kramer
and
Dorn
who consistently produce games that meet my criteria of "elegance." That doesn't mean other games will not be enjoyed by the boardgaming community. They just won't be enjoyed by people with game tastes similar to mine.