From the exchange of emails between myself, Joe Gola and Gil Hova:
Joe, March 16:
I'm planning to bring Clash of the Gladiators and at least one or two other recent releases just in case. I tend to change my mind a lot at the last minute, though, so I may show up with something totally random. HOWEVER if fortune smiles upon me and a certain package shows up tomorrow or Saturday morning I'll have something VERY new and exciting to bring.
Joe, March 17:
The ones I'm particularly enthusiastic about are Merchants of Amsterdam and Tower of Babel, and if both of you guys are interested in Atlantic Star, then I'm fired up to play that one as well. Naturally I'm also very excited about the MYSTERIOUS GAME OF MYSTERY.
Joe, March 18:
By the way, the MYSTERIOUS GAME OF MYSTERY has ARRIVED! It is (supposedly) sitting at my house right now. I may have to leave work early.

Just to tantalize you further I will let you know that the MYSTERIOUS GAME OF MYSTERY is a brand-new big-box Nuremburg game from a very well-known designer and a very well-known publisher. Two of the previous collaborations between this designer and publisher are in the BGG top 50. The game only just became available in the U.S. two days ago and has less than ten plays recorded on BGG, so to say that we will be on the "cutting edge" when we break this out this tomorrow will be completely accurate.

And it's not Celtica.
Rick, March 18:
Dammit I was guessing Celtica!

Maybe either Blue Moon City or Bison or Thurn & Taxis?

Damn you Joe for making me look for the MYSTERIOUS GAME OF MYSTERY.
Gil, March 18:
All the games sound great; I don't think I'll bring
any of my own, in fact. We should have plenty to do
with what's already been mentioned.
Rick, March 18:
G'night and see you both tomorrow!
1. My first guess (after Celtica) was correct. THE MYSTERIOUS GAME OF MYSTERY (tm) was: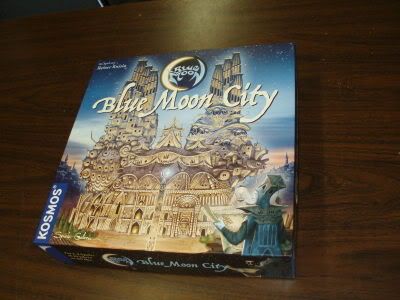 2. Gil lied. He did bring a good-sized bunch of games, including THE PROTOTYPE WE SHALL NOT SPEAK OF which we played!
3. That was a very good day of Quizno's subs and gaming. I wish Quizno's would franchise out to this corner of the world.
Over to the next post.