Torres on Boite a jeux
It's no secret that I rank Torres as one of the best games around. I enjoy everything about the game: the fun theme, the simple mechanisms, the elegant gameplay, and one of the most fitting graphic designs around. Torres is perhaps the best awardee of the Spiel des Jahres award ever. Considering the medicre picks that they have made since then, that seems unlikely to change soon.
I was ecstatic when the Franch gaming site
Boite a jeux
implemented Torres recently. I immediately recruited my online gaming group, affectionately called The Four Friends, and we launched into playing Torres. (The Four Friends are Mary Weisbeck, Chester Ogborn, Gerald Cameron and myself.) We've been playing multiple games of Torres, in different variations, for several weeks now and I haven't tired of it yet. I don't think they have either. I pray they haven't because this game has legs unlike any others.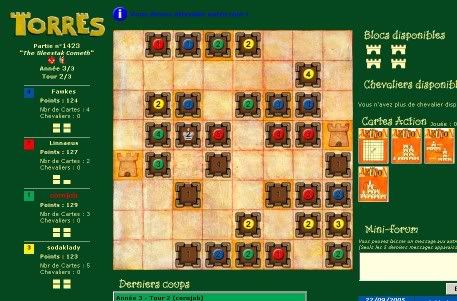 A game of Torres on BaJ; as usual The Four Friends are locked in a tight struggle.

I can only compare my Torres fever with the other four top games in my rankings - The Princes of Florence (playing this occasionally on BrettSpielWelt is like giving a thirsty man a drop of water), Euphrat & Tigris (which we've played heavily on BoardGameGeek), Puerto Rico (which I've played heavily on BSW as well but have given up on due to my irritation with the other players on the site), and the unassailable Magic: the Gathering.
If any readers out there would like to play Torres, register on BaJ and drop me a line. You can even pick the variant; I enjoy them all.