New games, no game time
I've been working and travelling for work so much in the past couple of months that I've been able to buy new games in Singapore and Malaysia, but haven't been able to get them to the game table.
The last three trips to Sing, as partly chronicled here, netted:
Santiago
Through the Desert
Samurai
Louis XIV
In the Shadow of the Emperor
My more recent trip, to Kuala Lumpur, netted:
Traumfabrik
(!)
Magna Grecia
Maharaja: Palace Building in India
San Marco
Verrater
and on a whim at the airport,
Squad Seven
.
I was very surprised when
Mac Edwin
,
Kuala Lumpur's eurogame pimp daddy
, mentioned over email that he had T-fab in inventory. Not even Fab-d-Traum, T-fab, which meant a 100% chance that the audio CD would be in the box. Even at US$70, the highest price I've ever paid for a eurogame, it was not something I was going to pass up. (Besides, T-fab goes for $50-60 in the US. With shipping to Asia and a small margin, it's definitely not unreasonable for a game that's OOP and unlikely to be republished in the same form in North America.)
Magna Grecia I owe to my good Geekbuddy
Mary Weisbeck
, who lists it as her #1 game. Despite her strange fascination with area control mechanisms, I consider her recommendations rock solid and MG already looks very good. I don't even think the graphic design is awful. It's not great, but it's not a dealbreaker.
I've already played Maharaja (John Peter's copy) and I like it. As I was telling
Jasen Robillard
on BSW the other day, it's a practice in creating order out of chaos. The blind action selection mechanism and the changing roles can be overcome with good, visionary play. Make no mistake, Maharaja does offer control. In this case, however, it is not straightforward and it has its pitfalls.
Speaking of chaos, my buddy
Gerald Cameron
wanted to know what the hell an Alan Moon area control game was doing in my collection. Despite the games of Mr. Moon having a dismal record in entertaining me, I had to have it for two reasons. First is the Alessandra Cimatoribus graphic work on the game, which is nothing short of gorgeous. Other than the original
Torres
, she hasn't done any other boardgame work. The other is the Solomon Draft mechanism, which makes the area control nature of the game an afterthought. I loved this mechanism back in my Magic tournament days, and it is enough to make this game good. I can even overlook the use of the die.
Verrater's a game I've played on BSW, and along with its sibling
Meuterer
, a game I'm happy to own for US$10.
Finally, Squad Seven. I had looked at the game's entry on the Geek via some Geeklist in the past, and recalled that it was a quirkly action game. It was priced at 25 Malaysian ringgit, which is something like US$7 or so. It was a lone marked down copy in the airport toy shop. How could I leave it there? Anyway, I check it ouot and stuff it into the game bag I was toting. As I approached the X-ray machine it occurred to me that Squad Seven ad a toy gun in it. Uh-oh. I quickly moved it between T-fab and Maharaja in my bag and hoped for the best. It went right through the KL X-ray check. Good. In the Sing stopover, it again went through the X-ray check with no incident. Phew. I had visions of having to explain a suction-cup gun to airport security by running around a table and shooting stand-up figures while listening to jungle sounds on the airport sound system.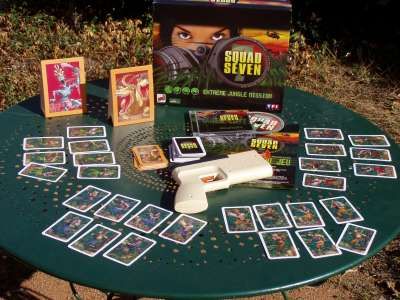 The game and toy gun that might have gotten me detained.
Anyway, my gaming group is going to have to endure a steady diet of new games over the next couple of months. By then, I figure that we'll be ready for the arrival of
Chester Ogborn
's copy of
Die Macher
, slowly floating its way over here on the slow boat. More on that as the arrival becomes imminent.