Zupport for Zavandor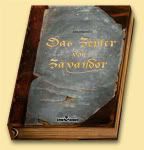 Mike Siggins's new
Notebook
is up.
Favorable review for
Das Zepter
, which makes me feel a lot more secure in my decision to order it despite its being an indy game (
Lookout Games
,
Jens Drogemuller
) that has a reputation for running too long. I have to admit, it was the theme that tipped me over the edge here. A fantasy-flavored system game? I'm there, and I'm sure my game group will be happily predisposed to giving it a shot.
All I have to do is call it "
The Rod of Seven Parts
".